Who They Are
Blancaneaux Lodge was opened in 1993 by the movie director Francis Coppola and his wife Eleanor, and it now forms part of Coppola Resorts. Tucked away in a pocket of the Maya Mountains, Blancaneaux is a 20-room resort where the spectacular Privassion Creek waterfalls tumble into turquoise pools above the jungle canopy.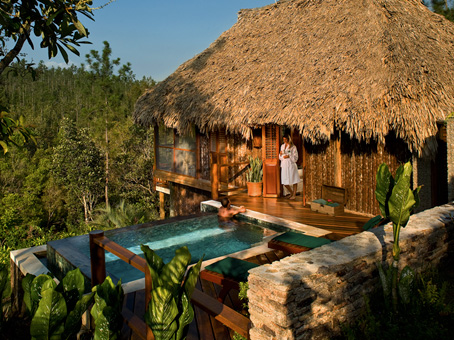 The luxury retreat offers the comfort of spacious villas or cozy cabanas. The two Deluxe Cabanas, opened in 2008, have quickly become the most sought after on the property.
What They Are Doing
Blancaneaux and sister property Turtle Inn support a number of organizations and individuals doing research in, among other things, jaguars, raptors, scarlet macaws, and the Mayan forest. It recently extended its jaguar research partnership to include ten remote camera traps. This year it has started an 'In the Field' expedition series designed to benefit its partners and where participants get up close and personal with the subjects.
The lodge buildings use low-profile, environmentally sound designs, thatch, hardwoods, pine, and bamboo, along with regionally produced tiles. Local and regional plants that do not rely on intensive irrigation are employed in landscaping.
The lodge is also self-sustaining in energy: A hydroelectric scheme harnesses the energy of Privassion Creek, with any excess used to heat the hot pool at the Waterfall Spa. Because of the design of the rooms, air-conditioning isn't needed at any of the the Belize lodges.
With over three acres of vegetables and herbs, plus fruit and nut orchards, the lodge's garden provides almost eighty percent of the produce for both Blancaneaux Lodge and Turtle Inn.
Coppola Resorts provides 4-year scholarships to five local students, who are at present at schools in San Ignacio, Benque Viejo, and Santa Elena. Among various other programs it supports, it contributes to the furthering of sports in  Placencia and San Ignacio.
Coppola Resorts has also worked extensively with Alexandra Cousteau for her Expedition Blue Planet/Blue Legacy initiative. Coppola Resorts/Turtle Inn has been her partner in Belize and is to fix a date for Alexandra to return in 2010 to film Expedition Blue Planet: Belize.