Take a scroll through spectacular Sani Pass – which connects KwaZulu-Natal and Lesotho – with these beautiful photographs, captured by LOUISE VAN DEN AARDWEG…
Sunrise Day 1 at Sani Top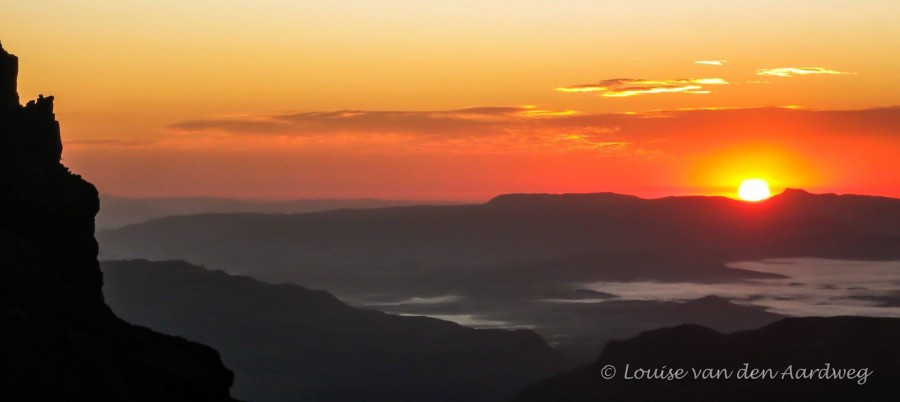 Lesotho
Lesotho is a landlocked kingdom, surrounded by South Africa. Rivers cross the hauntingly beautiful landscape, and mountain ranges rise as high as 3,500m.
Basotho pony
The Basotho Pony – or Basuto – breed originally comes from the Cape Horse and is quite a small but hardy animal – used for treks, and even exported in the 19th century to Europe to be used as war horses, according to the Equinest. A successful Irish-assisted breeding programme in the '70s has ensured the breed no longer faces extinction.
Sunrise Day 2 at Sani Top
The Sani Pass 4×4 route
The legendary route connects South Africa's KwaZulu-Natal with Lesotho. Tenders were invited this year for the upgrading of Main Road P318 from Troutbeck in Sani Top Phase 2. The closing date, for what's expected to be a 36-month project, was two weeks ago (3 March).
Looking down the valley with the river & road to the right
The route up the Sani Pass starts at 1544m and climbs 1332 metres to an altitude of 2876m.
The majestic Drakensberg
Goats do roam… on the Sani Pass 4×4 route (with a local taxi)
According to SA law only 4x4s are allowed on the steep gravel road, on which some fatalities have occurred.
Derelict truck and home
Lesotho Village
"Loved the complementary blue in this image…" – Louise
All photos © Louise van den Aardweg. First published on this site in 2016.
For anyone interested in visiting Lesotho, there are some useful tips in this post on SAPeople's Facebook page:
//