Could Victoria Falls dry up? That was the question the BBC's Stephen Sackur asked last week in a HardTalk documentary about Zimbabwe in which the programme claimed "the effects of severe drought and climate change are having an impact on one of the world's great natural wonders, Victoria Falls."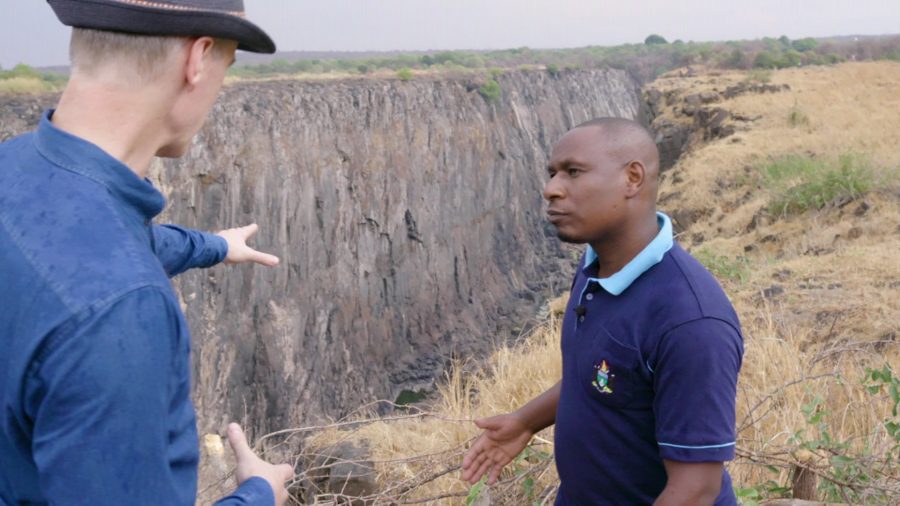 The show, which was aired less than a week ago, has local tour operators up in arms, saying it has caused "substantial damage to the local tourism industry", and on Sunday morning a large group gathered at the Falls to take photos to dispel the notion that Victoria Falls may be drying up.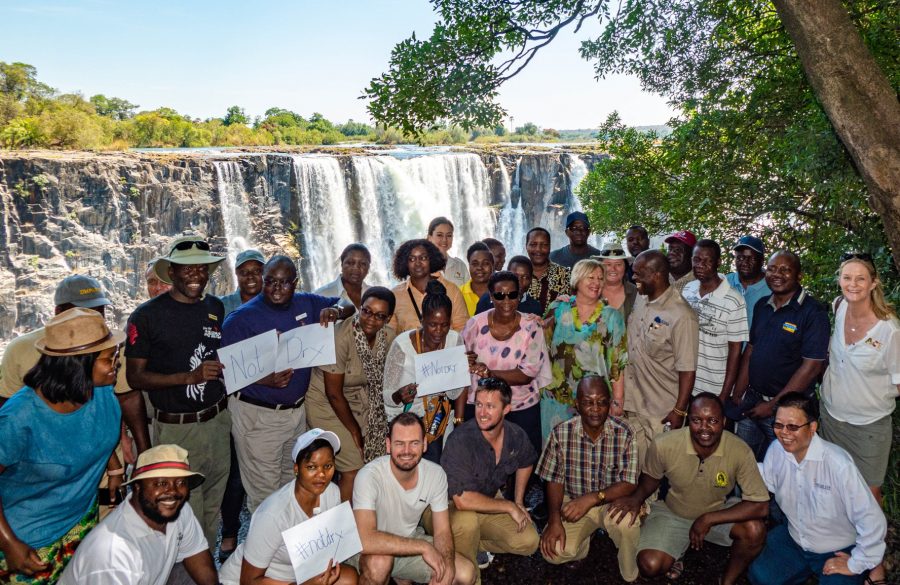 Nick Milne, Africa Conservation Director who lives at Victoria Falls, said: "Unfortunately (Sackur's) unbalanced report has caused substantial damage to the local tourism industry, and the thousands of people that rely on it for a living, so as an industry we got together this morning and went down to the Falls to dispel the myth that the falls are dry!"
During the programme, Elisha Moyo, Principal Climate Change Researcher at Zimbabwe's Ministry of Environment, Climate and Tourism, told Sackur that the average flow over the falls in 2019 is down by almost 50%. Watch here:
"The low falls are becoming more frequent. It is quite a possibility….one year there will be no falls completely, no water"

Elisha Moyo, Principal Climate Change Researcher for the Zimbabwean government says the average flow over Victoria Falls in 2019 is down by almost 50% pic.twitter.com/eeMlAWZmKN

— BBC HARDtalk (@BBCHARDtalk) November 26, 2019
However it is not Moyo to whom the tourism industry are directing their anger, but the BBC for their show which was aired on Monday and Tuesday 25 and 26 November. Insults were flung at the BBC for "propaganda", "fake news" and "arrogance". However some did point out that at no point did the BBC presenter say that the main falls were dry.
On his Twitter timeline, the BBC's Sackur had tweeted after getting back from Zimbabwe: "Drought, infrastructure breakdown, economic crisis, widespread hunger…. The world needs to know."
He said: "An environmental disaster looms in #Zimbabwe. And the conflict between humans and wildlife intensifies…"
Some local Victoria Falls residents agreed on Twitter saying: "Some tour guides say they have never seen such low levels of water in their life as experienced this year. You would feel you can cross the river on foot."
The drought has already killed over 50 elephants and other wildlife in Zimbabwe and the country has made plans to move 600 elephants to prevent them starving in the drought.
However Milne said on Sunday in a Facebook post: "FACT: 17,7 BILLION litres of water are flowing over #VictoriaFalls every day at the moment, and yes that is during a drought with lower than normal river flows for this time of year!
"Amazing that Stephen Sackur from the BBC News conveniently missed that in his recent #HardTalk piece!"
While hundreds of social media users supported Milne's assertion, others said the report was fair. Christopher Cumming pointed out that the BBC "showed the side where the water was running and the side where it was not. They stated that there was one third of the normal flow. At no time did they say there was no water going over."
Cumming adds that he was in the police at Victoria Falls "and there was never a situation in 34 years I was there that there was so little water going over. The only other time of no water it was in 1995. It was an unbelievable sight."
Chris Swart, MD at Ezytrack, said the river can change in hours. "The Eastern cataract is bone dry and although good rains show the flow is increasing, the Zambian and Zimbabwean tourist associations have worked exceptionally well together to offer a total enjoyable experience for a win win."
The bottom line is the Victoria Falls remains one of the world's greatest natural wonders… and definitely still worth visiting!!!! (Here are a couple more photos from Nick Milne that prove the point!)
I'm just back from #Zimbabwe and I really want you to watch my reports on @BBCHARDtalk
Drought, infrastructure breakdown, economic crisis, widespread hunger…. The world needs to know
Thanks to @TamaMuru @AlesPavone pic.twitter.com/qwasHMFUc2

— stephen sackur (@stephensackur) November 25, 2019
The second part of the Hard Talk Zimbabwe show is on Monday 2 December. Sackur visit Mbare township and the streets of Harare to "talk to people about the effects of the economic downturn: Jobs, food, access to clean water and electricity blackouts."