The Netflix docuseries "Tiger King" is trending now, with audiences around the world riveted by captive big cat breeding. The story takes an up-close look at the terror unleashed on animals by Joe Exotic and his band of untrained workers who kept hundreds of big cats and other wild animals in captivity in barren conditions, bred them to provide baby animals for public photo shoots and "play time" sessions, and even shot animals dead when they were of no use to him anymore.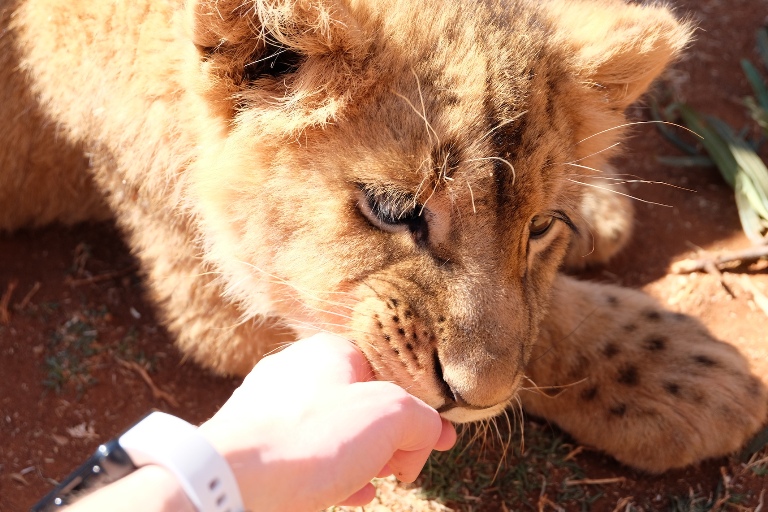 Although the Netflix series focuses on Joseph Maldonado-Passage (aka Joe Exotic), who was sentenced to 22 years in prison for killing five tigers and hiring a hitman to kill the operator of a Florida big cat sanctuary (see bottom of story for full list of the villains), it's far more than a bizarre one-off story. Wildlife campaigners at Humane Society International hope that interest in the life story of Joe Exotic will help shine a global spotlight on big cat exploitation, and the part that we can unwittingly play in their suffering.
Tourists often fooled into taking selfies with cubs and bottle-feeding them
South Africa has an estimated 8,000–12,000 captive-bred lions being held in more than 300 lion farms across the country, who suffer from a vicious cycle of exploitation, from cradle to grave. (A list at the bottom names 5 ethical sanctuaries as well as 10 where tragic accidents have happened.)
Unsuspecting visitors are often fooled into supporting and funding what HSI/Africa call the ''Snuggle Scam" by paying for selfies, including petting and bottle-feeding infant lion cubs snatched from their mothers at just a few hours old, or walking experiences with captive older lions. When they are no longer of use at these interaction facilities, these lions are eventually offered to be shot as canned trophies or slaughtered in their masses to meet the demand of the international lion-bone trade for the Asian traditional medicine market.
"Netflix viewers around the world are sickened by what the Tiger King docuseries has brought to light," said Audrey Delsink, wildlife director of HSI/Africa. "But it's more than just a sad story –  thousands of big cats around the world endure a similar life of captive exploitation paid for by tourist pounds, euros and dollars.
these facilities promote abuse, exploitation and destruction of big cats
"Our plea to everyone watching the Tiger King during lockdown is to not simply be appalled by the animal suffering from your sofa, but to pledge never to pay for or support these snuggle-scam tourist traps and spin-off industries once normal life resumes and the time comes to book a vacation to Africa.
"Many tourists visit South Africa because of their deep love for lions and other wild animals and are duped into visiting these facilities by their claims they are contributing to species survival and conservation. In fact, these facilities and their activities support and promote an inhumane life of abuse, exploitation and destruction of big cats for profit by a handful of operators."
The animal suffering of Joe Exotic is nothing new; Humane Society International's sister organisation the Humane Society of the United States, launched an undercover investigation of Joe Exotic a decade ago and the resulting video revealed it was routine to pull new-born cubs, some just hours old, from their mothers to be hand-raised for handling by the public. Customers were allowed to keep handling tiger cubs, even when the infants cried uncontrollably. Tiger cubs were "trained" by being punched in the face, dragged by leashes and hit with sticks. Sick and injured animals were also routinely denied proper veterinary care.
An ethical lion facility or sanctuary will not offer any human-animal interactions or conduct lion breeding.
HSI-Africa Wildlife Director, Audrey Delsink, says: "South Africa has a rich biodiversity with a number of private, provincial and national game reserves where the public can view lions in their natural habitat displaying natural behaviour. Humane Society International-Africa encourages South Africans to celebrate lions being wild as nature intended!"
The 5 ethical South African reserves that the public are encouraged to visit include:
Facilities where there have been lion attacks
Lion attacks have taken place at the following facilities over the past few years, which HSI/Africa says shows not only the unethical aspect of captive lion breeding and human-animal interaction, but also the safety aspect:
Furthermore, the NSPCA carried out an investigation about abused lions found at Pienika Lion Farm: https://greengirlsinafrica.com/2019/08/07/more-horror-scenes-at-pienika-lion-farm-in-lichtenburg/
WATCH VIDEO: 'Tiger King' trailer
The List of "Tiger King" Villains:
In the United States, the HSUS is an active member of the Big Cat Sanctuary Alliance, a membership organization dedicated to ending the private ownership and exploitation of wild cats. The alliance  pushes for the passage of the Big Cat Public Safety Act in Congress to ban the possession of big cat species like tigers and lions by unqualified individuals, and prohibit poorly run animal exhibitions from allowing public contact with big cats, thereby halting the endless breeding of big cats for this harmful practice. 
Humane Society International encourages those who were horrified by Tiger King to raise awareness about the cruel reality of captive big cat breeding and help shut the industry down by pledging their support here hsi.org/snugglescam. For more information on the captive lion breeding industry visit hsi.org/news-media/lion-exploitation/.