In the latest global City Nature Challenge, which asked people around the world to find nature in their cities – or rather, in their backyards, since many had to do it under the conditions of lockdown this year – Cape Town residents recorded the most observations worldwide
.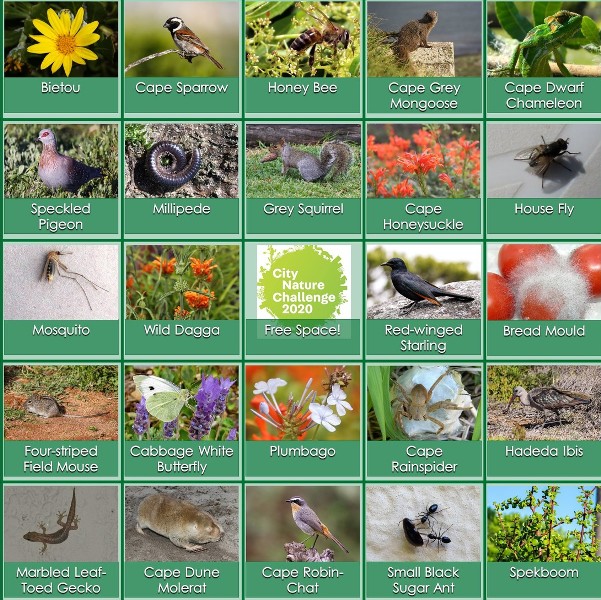 Cape Town recorded 34,254 observations and 3,270 species (out of a total 32,000). The Common Spekboom, Western Honey Bee, Marbled Leaf-toed Gecko, Garden Snail, Cape Honeysuckle and Chinese Hibiscus featured as the most recorded species.
Cape Town's top observer, Jeremy Gilmore, listed 834 observations. This grade 11 learner has a passion for learning about the indigenous flora of Southern Africa, especially nature conservation in the fynbos biome around the Western Cape.
The challenge, which began in 2016, only had 2 cities participating back then, with 19,742 observations. Last year, there were 159 cities with just under 1 million observations. This year 41,000 people took part. The biggest performing cities were Cape Town, San Francisco, Washington D.C. and Dallas.
"Even though we were not allowed to leave our homes, we have recorded a formidable base of species in our gardens and streets across the city,' said the City's Mayoral Committee Member for Spatial Planning and Environment, Marian Nieuwoudt.

In light of the worldwide lockdown restrictions, the challenge included both indigenous and alien animals and plants, and cultivated plants, especially because it was focused on residential gardens.
The top 20 species recorded included :
Portulacaria afra, Common Spekboom
Apis mellifera, Western Honey Bee
Afrogecko porphyreus, Marbled Leaf-toed Gecko
Cornu aspersum Brown, Garden Snail alien
Tecomaria capensis, Cape Honeysuckle
Hibiscus rosa-sinensis, Chinese Hibiscus
Crassula ovata, Jade Stonecrop
Aloe arborescens, Krantz Aloe
Strelitzia reginae, Common Bird-of-paradise Flower
Cotyledon orbiculata, Pig Ears
Streptopelia senegalensis, Laughing Dove
Passer melanurus, Cape Sparrow
Cinnyris chalybeus, Southern Double-Collared Sunbird
Streptopelia semitorquata, Red-eyed Dove
Clivia miniata, Natal Lily
Plumbago auriculata, Blue Plumbago
Plectranthus neochilus, Mosquito Bush
Zosterops virens, Cape White-Eye
Lavandula dentate, French Lavender
Bradypodion pumilum, Cape Dwarf Chameleon