With 90 million tourists, France was the most visited country in the world in 2019. The government in Paris has pledged $19 billion to help ease the country back into tourist mode, and says it will encourage French people to travel locally. A South African expat in France gives us a look of what it's like after the first fortnight out of lockdown, as people return to the roads, beaches, cafes and bars in the "green zone."
It's two weeks after lockdown was lifted and life feels almost normal here in the South of France, being able to venture out any time of the day or night without filling in an 'attestation' (permission certificate) anymore, and we're now able to travel within a 100 km radius of home (which means to gorgeous destinations like St Tropez, St Paul du Vence, Eze, Cannes, Monaco and Gorge du Verdon). In July it is likely we will be able to holiday anywhere in France… so we're expecting an influx of Parisians.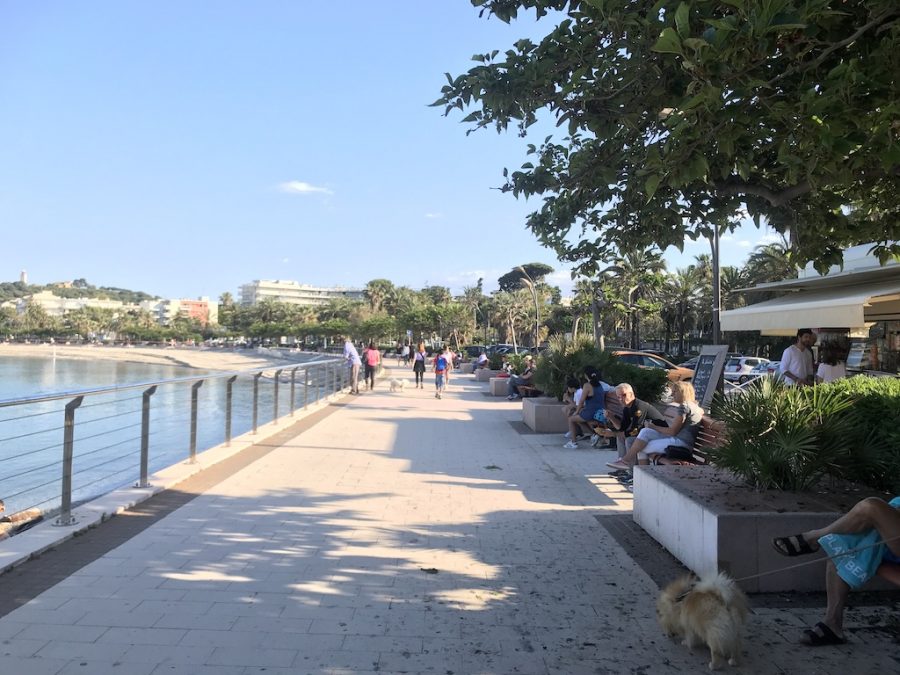 I live in Antibes on the French Riviera…along with a bunch of other South Africans, mainly seafarers, who have been attracted here for work at Port Vauban, the largest marina in the Mediterranean (in terms of the total tonnage of boats and yachts moored here) and a harbour that's been in use since before the Roman Empire!
The light dances over the med
It's a part of the world rich in history, a magnet to international tourists, and home to some of the rich and famous because of its fabulous food, flowers, beaches, boats (especially superyachts), scenery and a radiant light that dances over the Med and into the town, transforming all it touches into something so magical that artists like Picasso and Claude Monet have flocked here to capture that heavenly glow.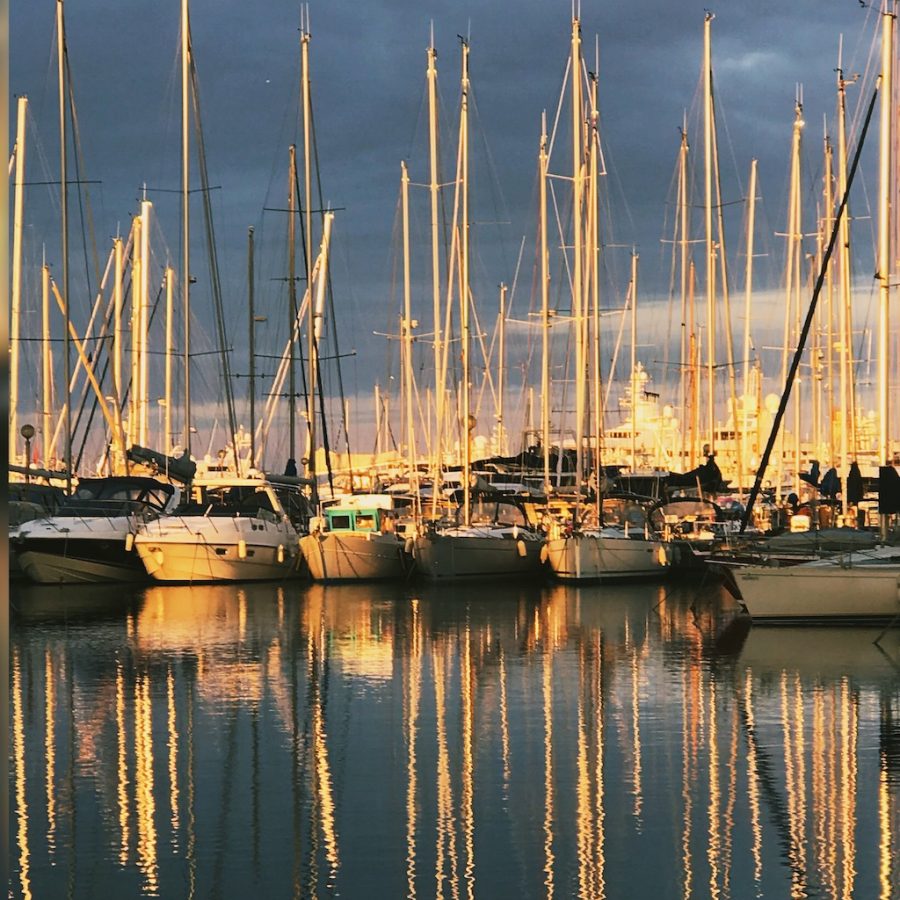 And now once again, French friends are gathering in groups of 10 to sip their beloved wine and watch the sun gently drop behind the mountains, while children play ball and the old folk play boules.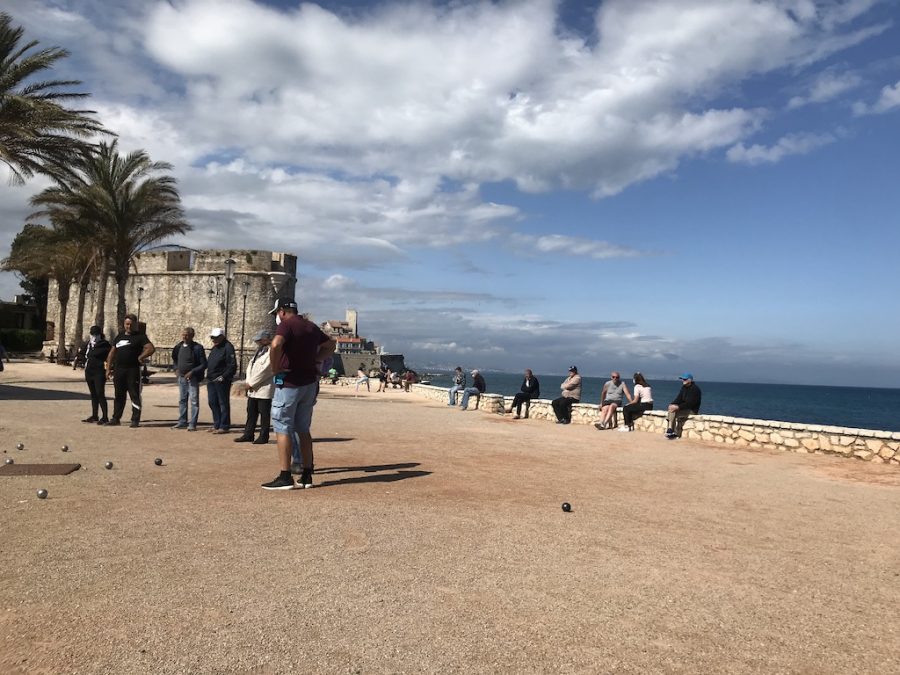 It has been SUCH a pleasure to witness these joys again in the past fortnight. To see kids running on the beach and splashing each other in the Med. Watching young teenagers run and jump off the jetty into the blissfully blue ocean.
Our mayor has allowed our beaches to be opened for us (although we're not meant to sit on the beach till probably 2 June). In some nearby towns the beaches are still closed. The government has left decisions like that to the prerogative of town mayors.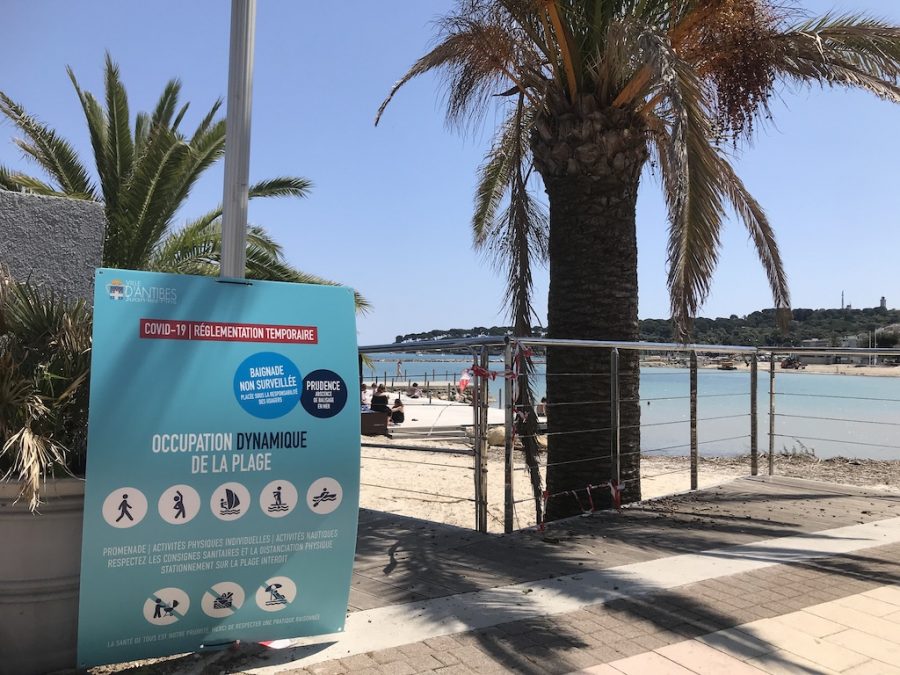 The municipality has been preparing the beaches for the public (and future holiday-makers) this week, with graders brought in to remove the seaweed and branches that accumulated over the winter.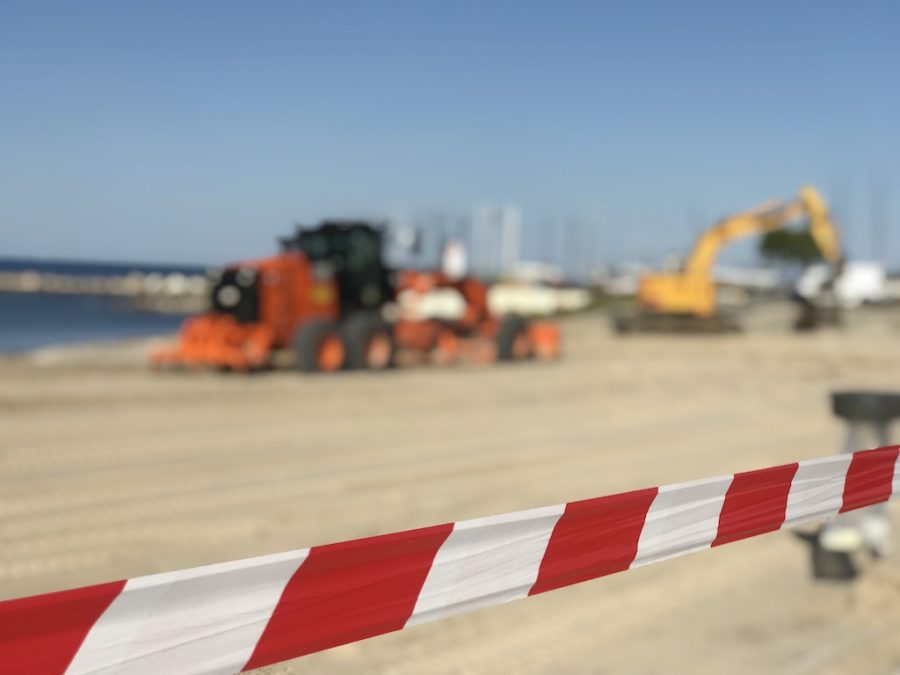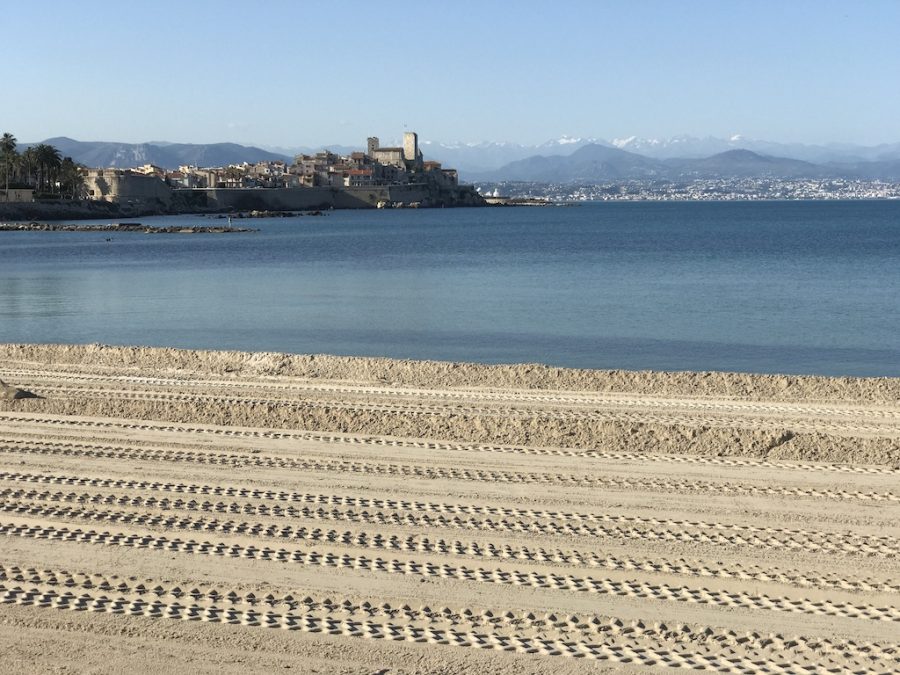 In Antibes we're labelled a 'green zone' which is great – it means we had less cases of COVID-19, and we now have more freedom than 'red zones' like Paris. (France suffered one of the highest Coronavirus death rates in Europe – and as of today, we've had over 182,000 cases and 28,000 deaths. It has been heartbreaking and devastating. We still hang off our balconies to clap each evening at 8pm, thanking the health workers and police for their ongoing efforts.)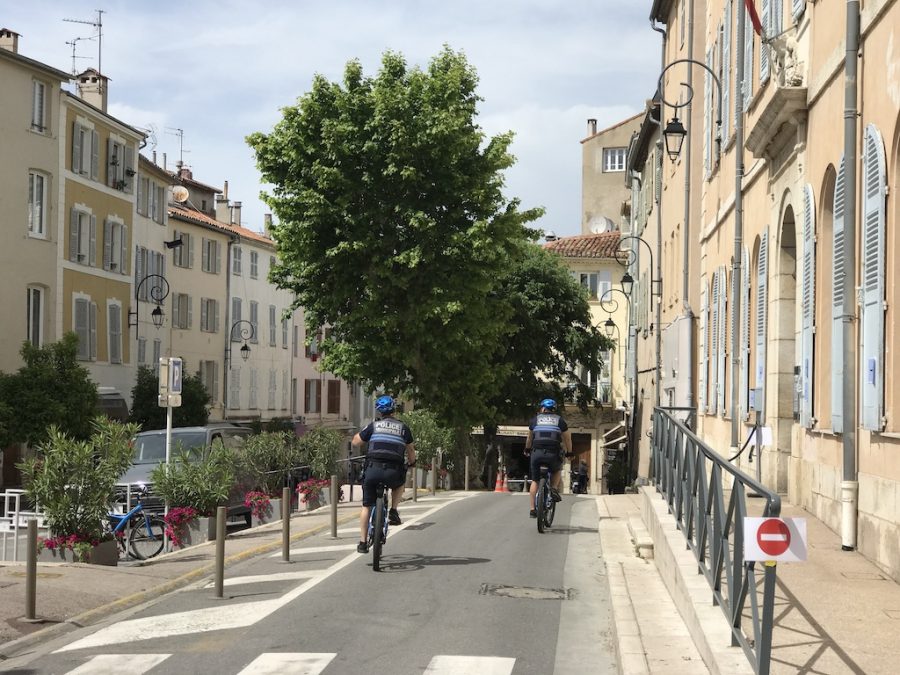 Most businesses have re-opened and are bustling, and churches have swung open their doors to the public, although museums, bars and gyms are still shut. And you can't sit at restaurants or cafes just yet, although you can sit on a bench right beside them!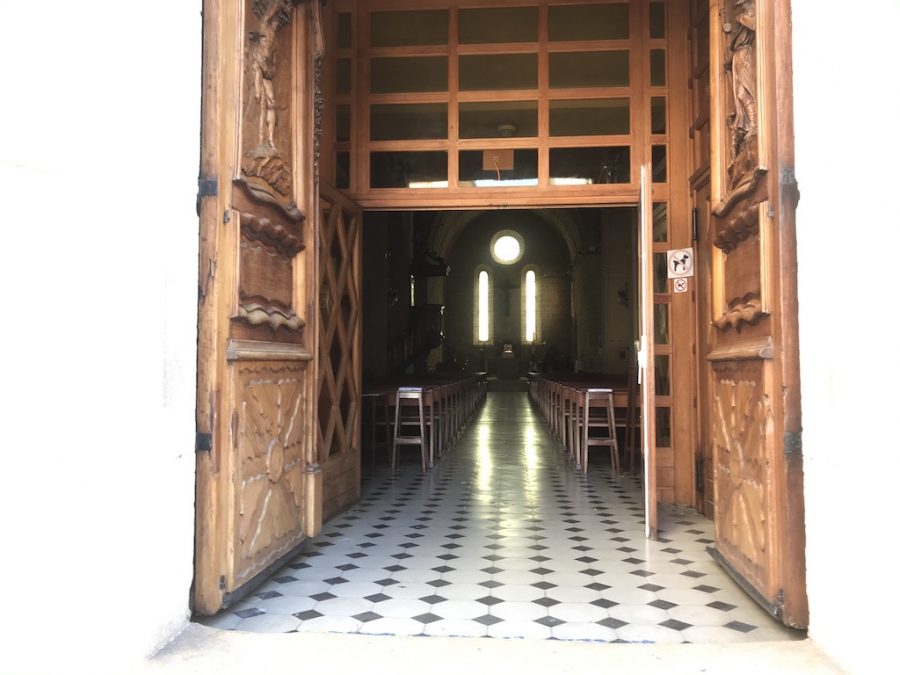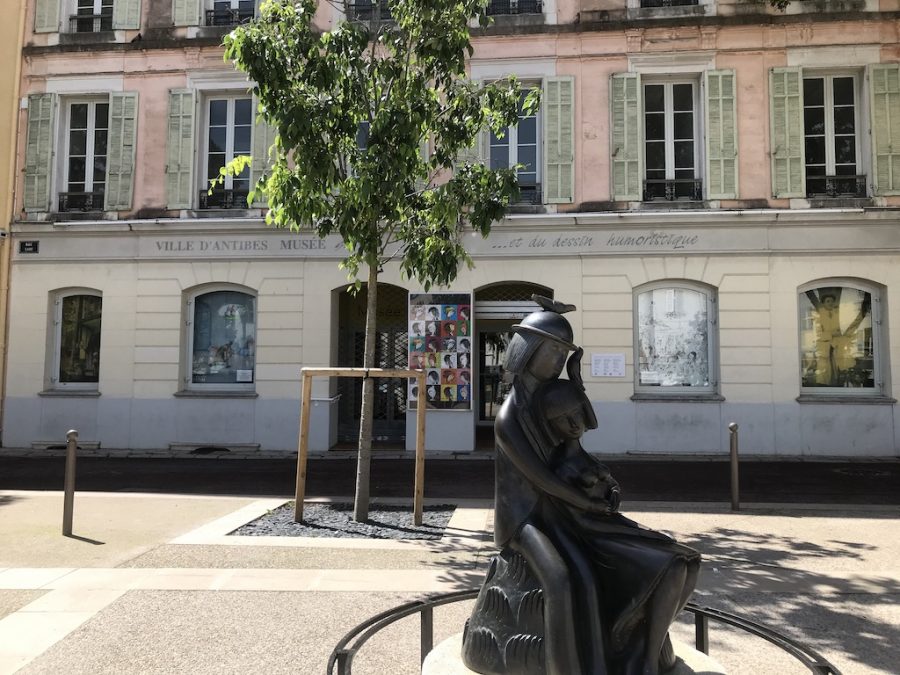 I would estimate that more than half of local residents are wearing masks as they stroll down the streets and avenues of Antibes, but it's not obligatory like it is in nearby Nice (except on public transport and at schools, where it's compulsory countrywide).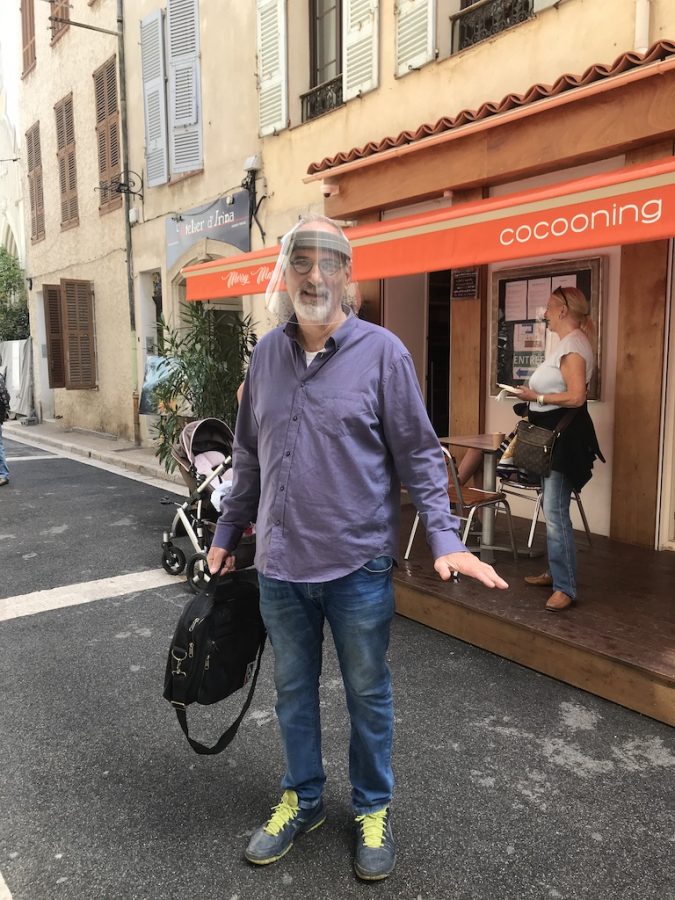 Some shops require you wear masks (a right given them by France's prime minister), and most have hand sanitisers for you to squirt on as you enter and leave their store (often through separate entrances and exits).
many of us are not doing 'la bise'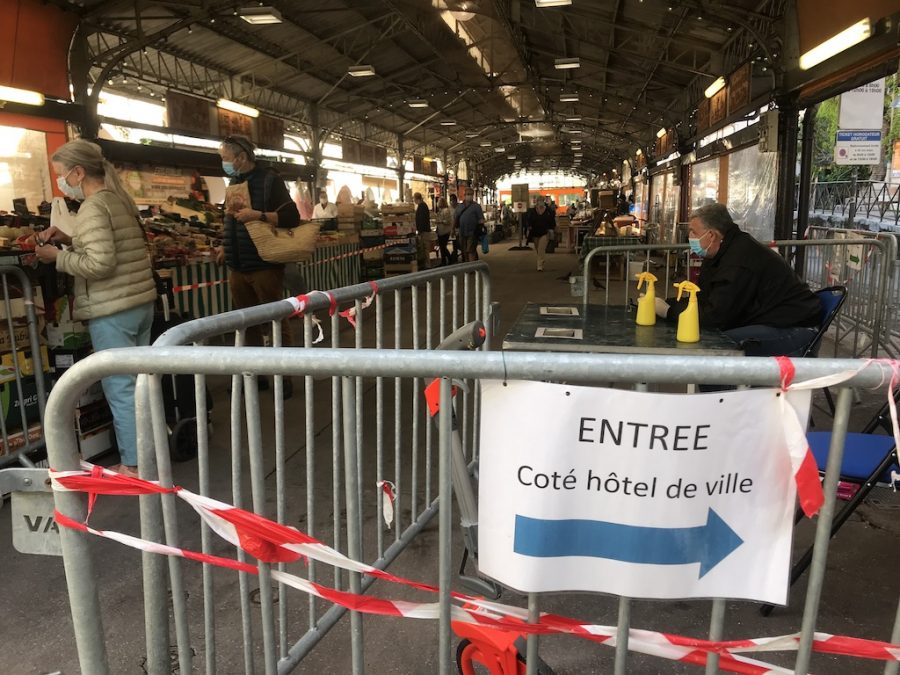 Within shops, some have designated zones where only a couple of people are permitted at a time. Turns out Ouma boxes are useful for more than just carrying SA expats' favourite rusks!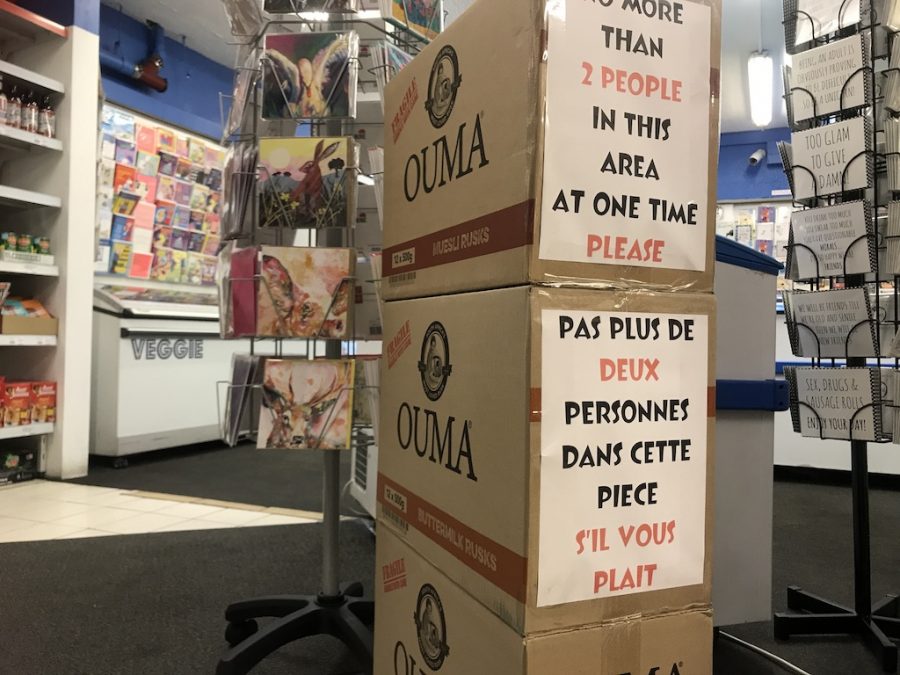 The majority of us are observing a decent social distance… although definitely not everyone, and I must admit – the more we socialise – enjoying dinner parties and Pilates on the beach – the more comfortable and forgetful of COVID-19 we are becoming.
However, many of us are still not doing la bise (kissing on the cheeks) and we're not allowed to gather in groups of more than 10 people so it's a new normal. But it's wonderful!
The most in-demand spots since lockdown ended have been the hairdressers, nail salons (using perspex walls between manicurist and client) and perfume shops which were closed before.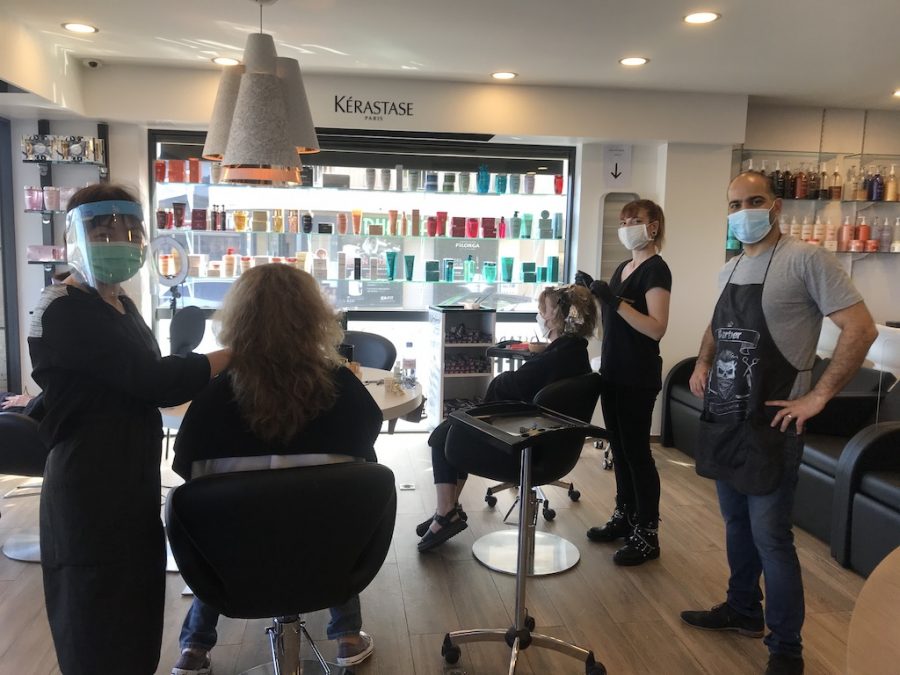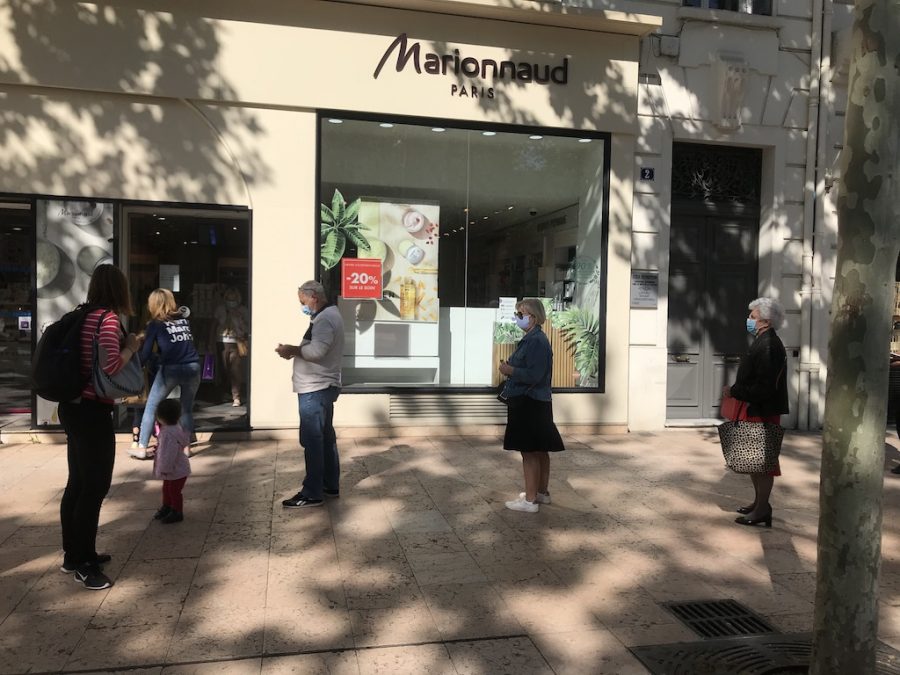 There have been some lovely treats in Antibes – like free parking and free bus transport anywhere in the town, and free coffee at the famous patisserie chain Paul.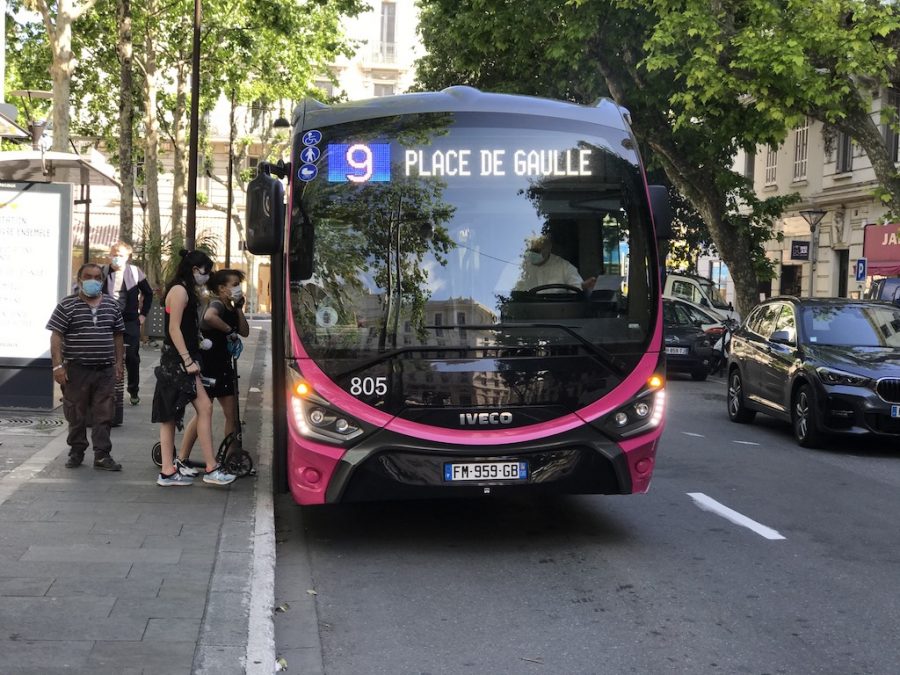 The freebies are scheduled to last until 2 June. And our South African goodies have been stocked up again at Jeffreys (the local international shop). Mrs Balls Original had totally sold out, like toilet rolls, at the start of lockdown!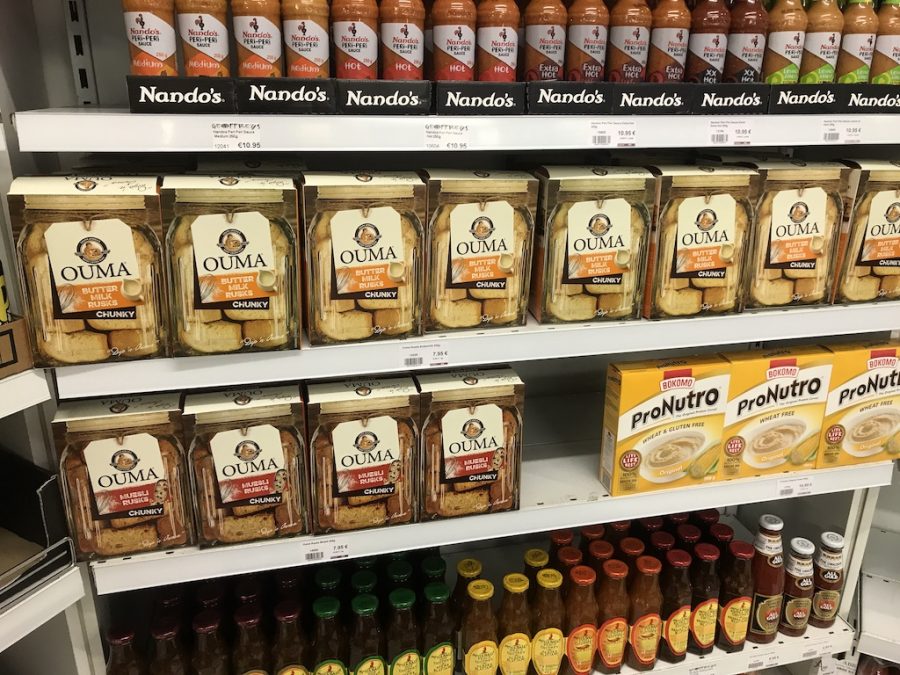 We don't have lockdown levels like South Africa. Instead we had lockdown. And now we have 'deconfinement' – that period between lockdown and back-to-normal. It will be done in stages, though, like SA. Some younger school classes have returned, but not all yet. And while most restaurants are open for take-aways, those in Antibes are expected to have tables and chairs again on 2 June (again, this is up to the discretion of our mayor).
Only a few people are allowed into certain businesses at a time, so there are queues.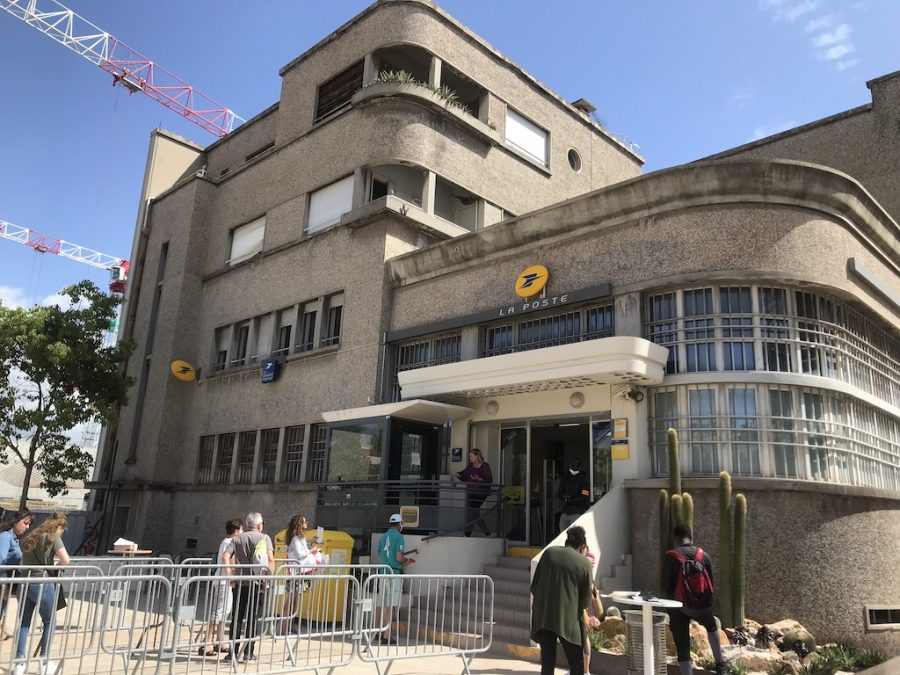 Alcohol, cigarettes and open-toed shoes are all perfectly acceptable here, and have been throughout. In fact, French friends were shocked by the SA bans because here bottle stores and the tabac (tobacco shop) were classified as "essential business".
If you haven't visited yet, Antibes is an exquisite spot to put on your bucket list for a post-Lockdown holiday!
Here are just some of the places and things we South Africans love here, and have been enjoying since Lockdown was eased…
1. Vegan, Vegetarian and Gluten-Free Restaurants and Cafes
South Africans who are vegan or gluten-free are lucky in Antibes which offers quite a variety of restaurants catering to their needs, compared to nearby towns. Merry Mary is one of the most popular spots in Antibes… and you're sure to meet at least one South African when you're here. There's also Green Burger, Choopy's and other delicious options. And there are many shops to stock up at as well – from Naturalia to the gluten-free sections at Monoprix and other supermarkets.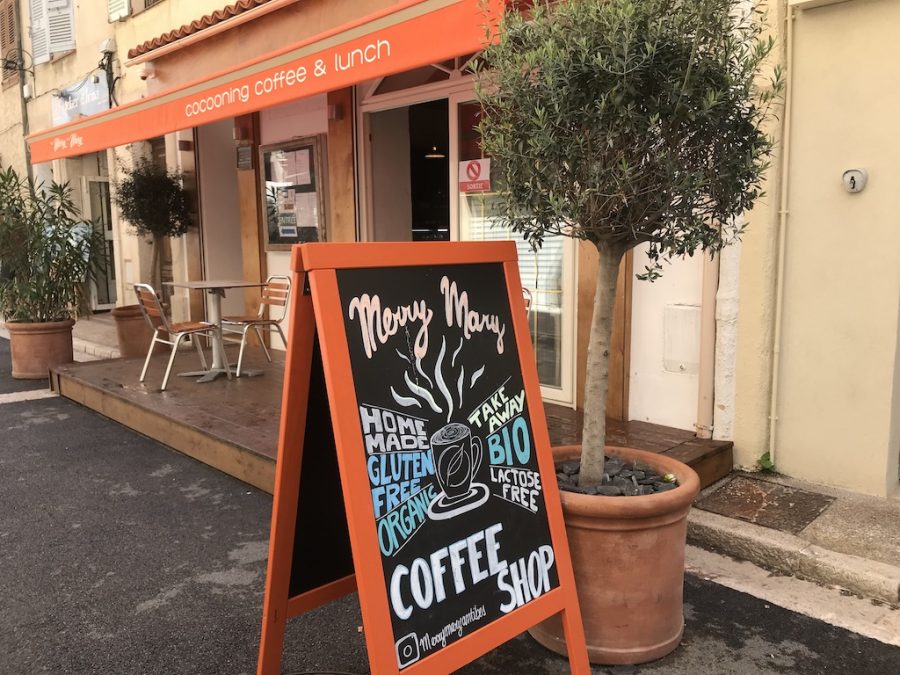 2. Michelin-star Restaurants
Antibes has a variety of Michelin-star restaurants including the 44 (pictured), Restaurant L'Arazur and Le Figuier de Saint-Esprit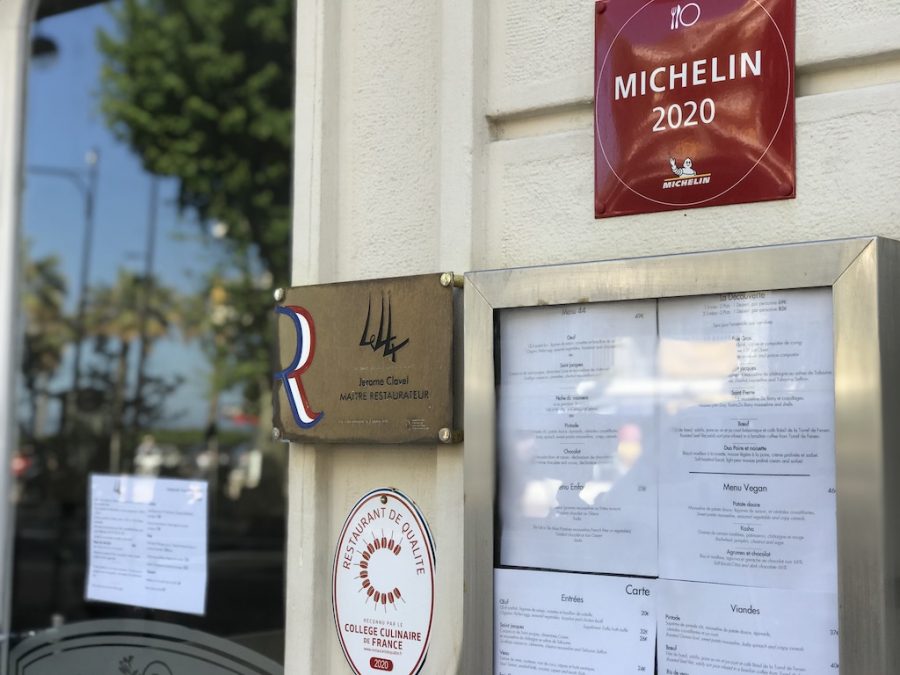 3. Port Vauban
Many South Africans are very familiar with Port Vauban, which was a natural port during the Roman Empire, and is now home to some of the biggest super yachts in the world. For tourists, it's a photographers' dream and very pleasant to walk around.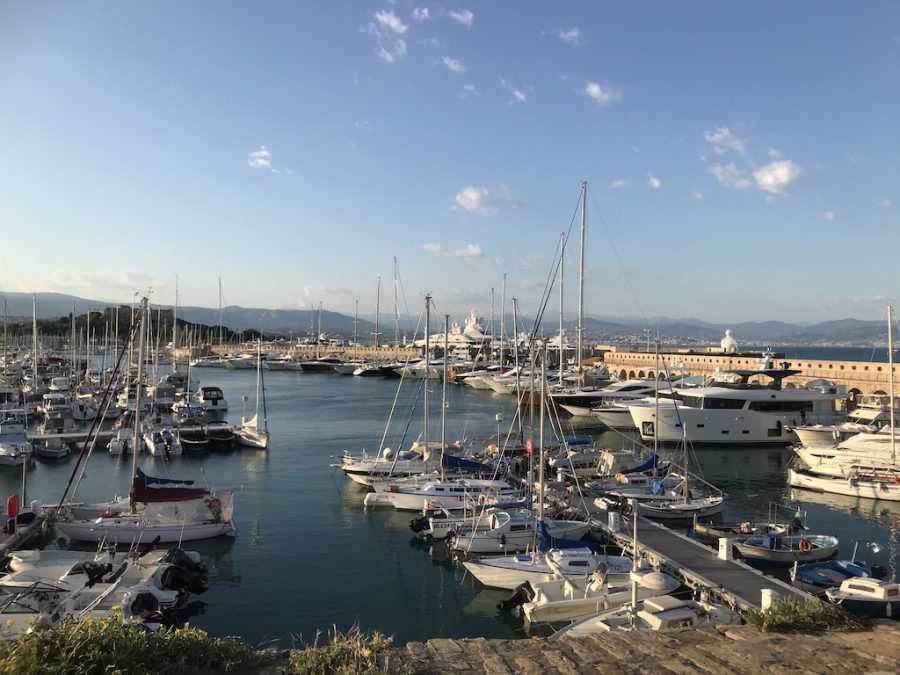 4. History
Antibes was originally called Antipolis by the Greeks who founded it in the 4th Century BC. It flourished under the Romans' rule, and in the 16th Century got 'Les Remparts' – walls that surround the old town and which make for beautiful strolls eating ice-cream and watching the sunset.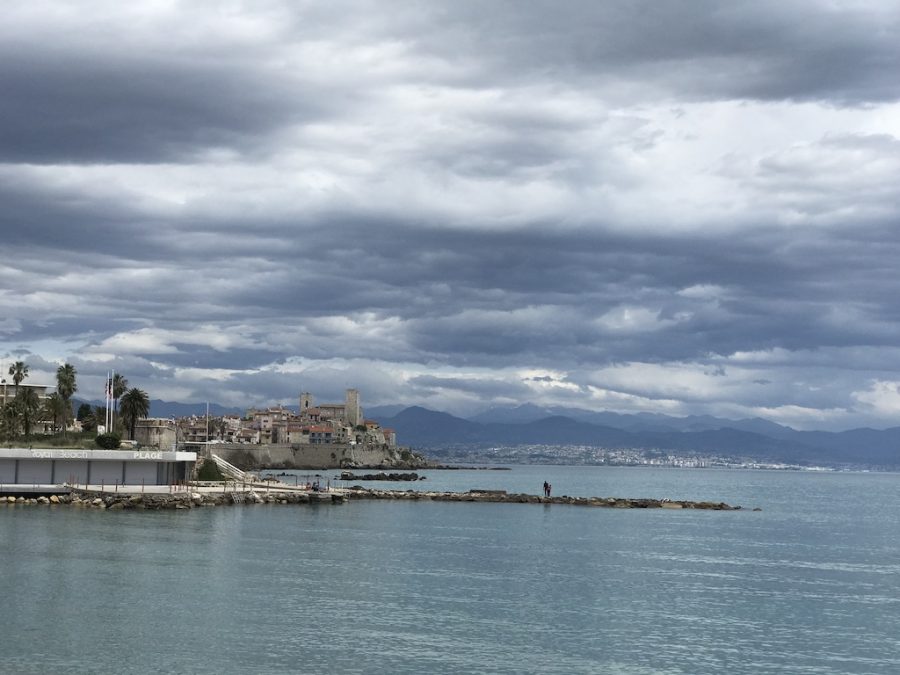 5. Museums and Art
Museums, like Picasso and Peynet's museums in the Old Town, are currently closed but will hopefully open soon.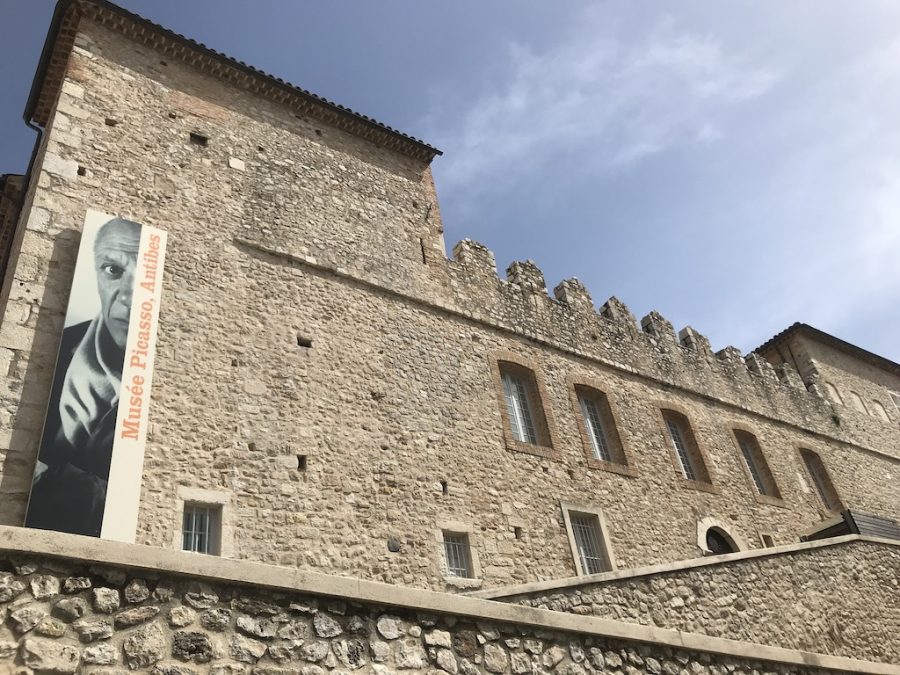 However, you can always see certain copies of their paintings dotted around the town, positioned so that your real view reflects that in the painting.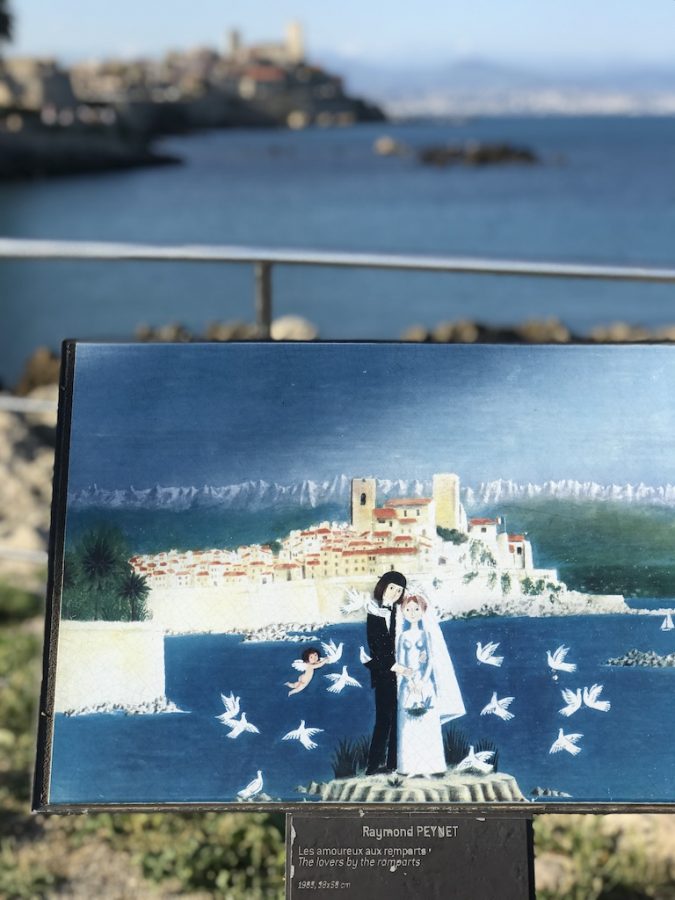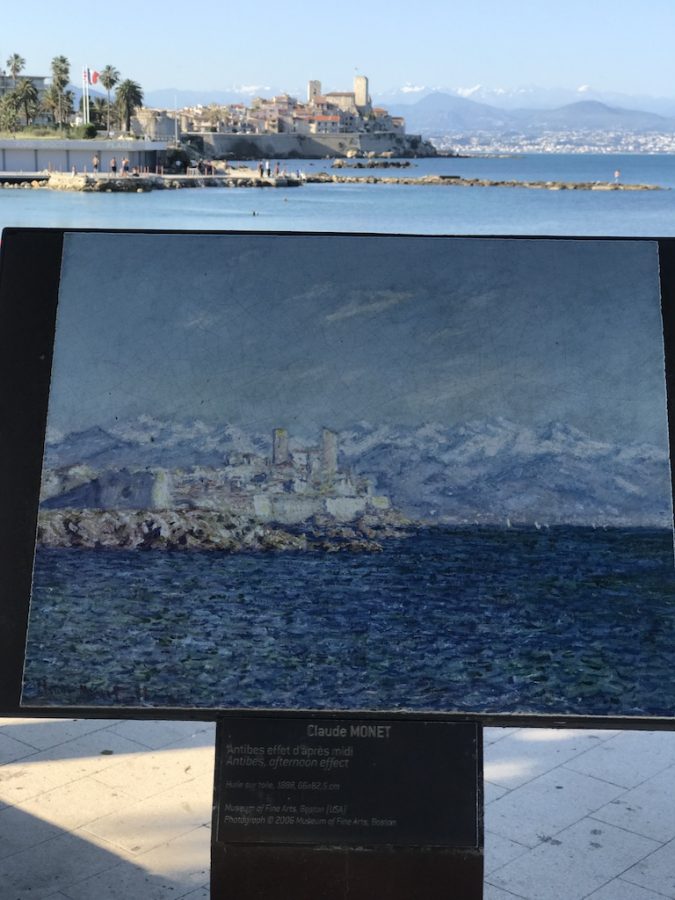 6. Boulangeries and Patisseries
Antibes has some of the most amazing boulangeries and patisseries, including that of the famous Lilian Bonnefoi, who makes all the patisseries for Hotel du Cap's guests.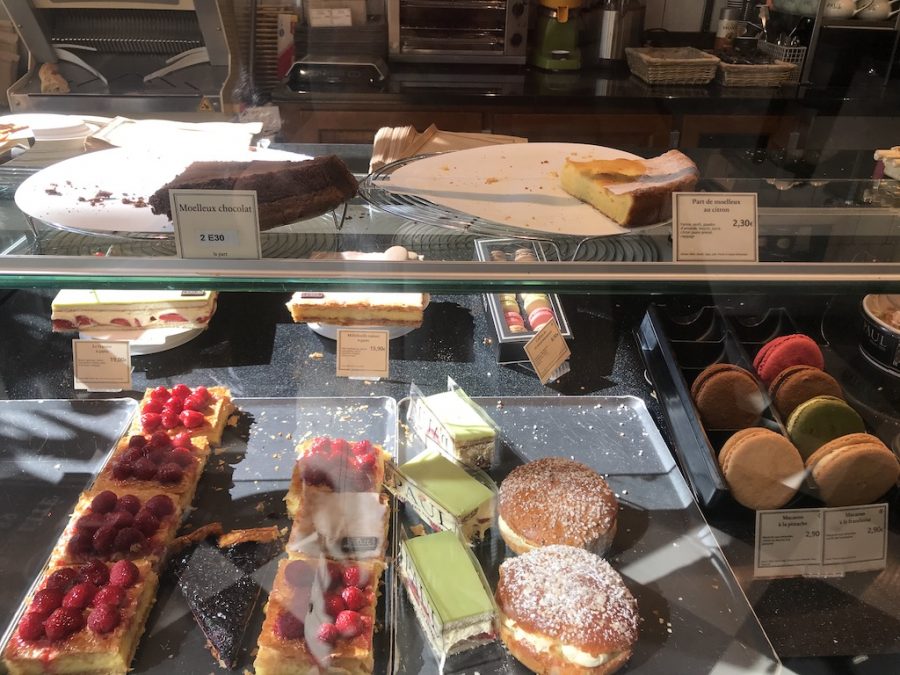 7. Beaches and Walks
The beaches are varied and beautiful, from exquisite coves like this (on Cap d'Antibes today) to busier public and private sandy beaches where you can pay to lie on a 'matlas' and be served champagne and club sandwiches. There's a wonderful coastal walk around Cap d'Antibes that takes between an hour or two, depending on how many times you stop to swim.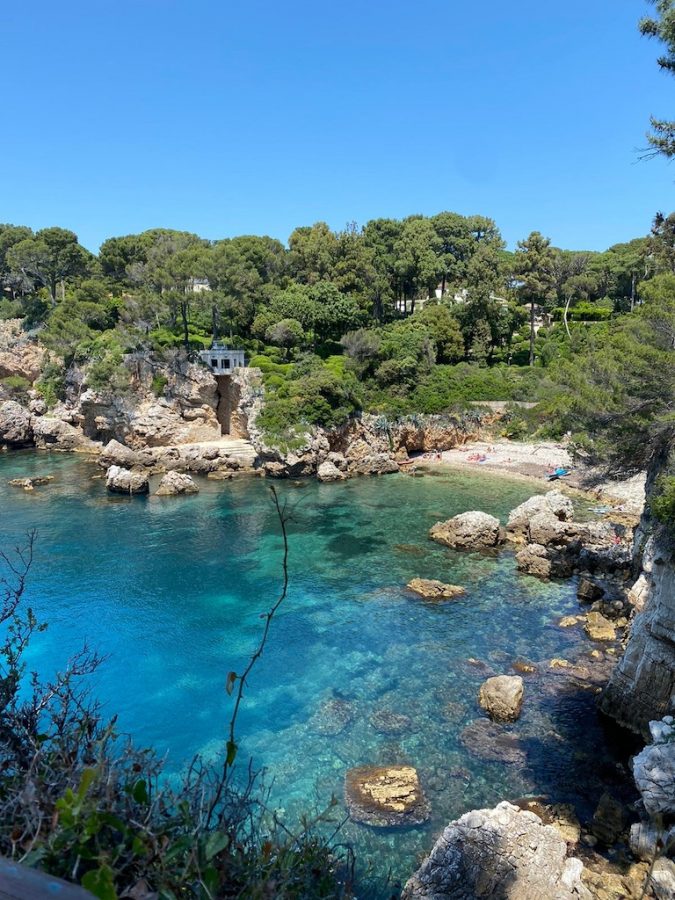 8. Markets
There are regular markets here for everyone's taste – from clothes to food (the daily Marche Provencal is a must) and antique markets. At certain times of the year we also have markets for flowers, chocolates, vintage cars, art and more…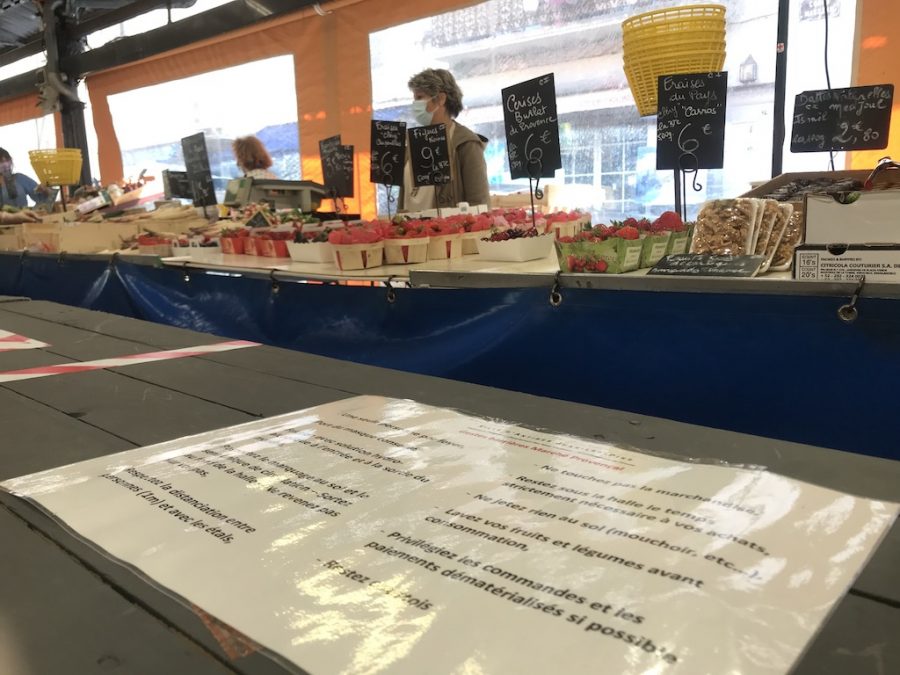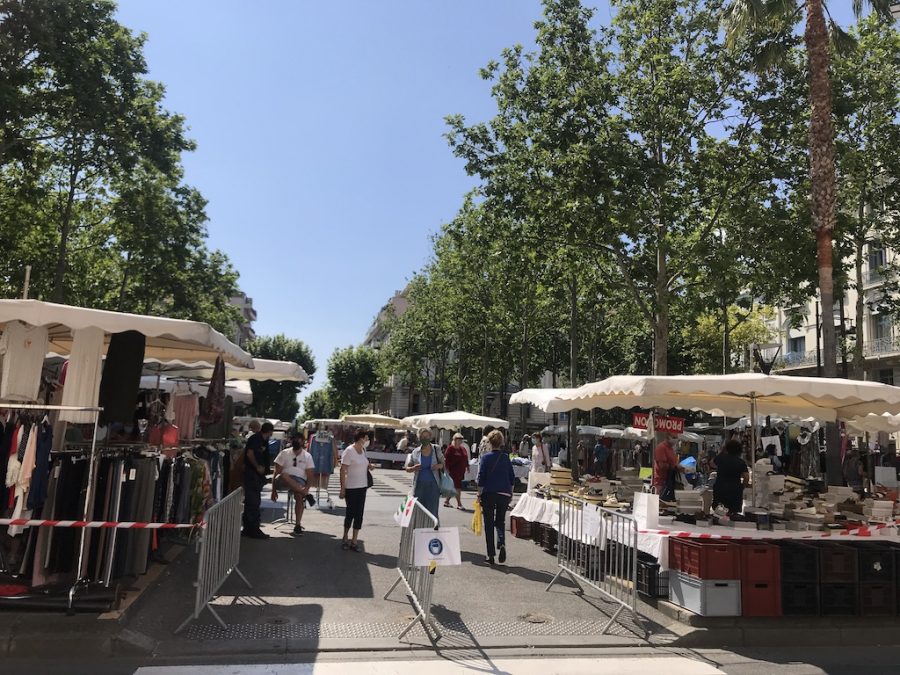 9. The Absinthe Bar in Antibes
If you're on the Côte d'Azur, this is one bar you need to visit. Bars are currently closed until hopefully 2 June (although the shop above the underground bar, which sells bottles of absinthe, is open). Not only can you drink one of the strongest spirits in the world here (aka 'the green fairy'), but there's a piano man, hats to wear and sing-along fun to be had.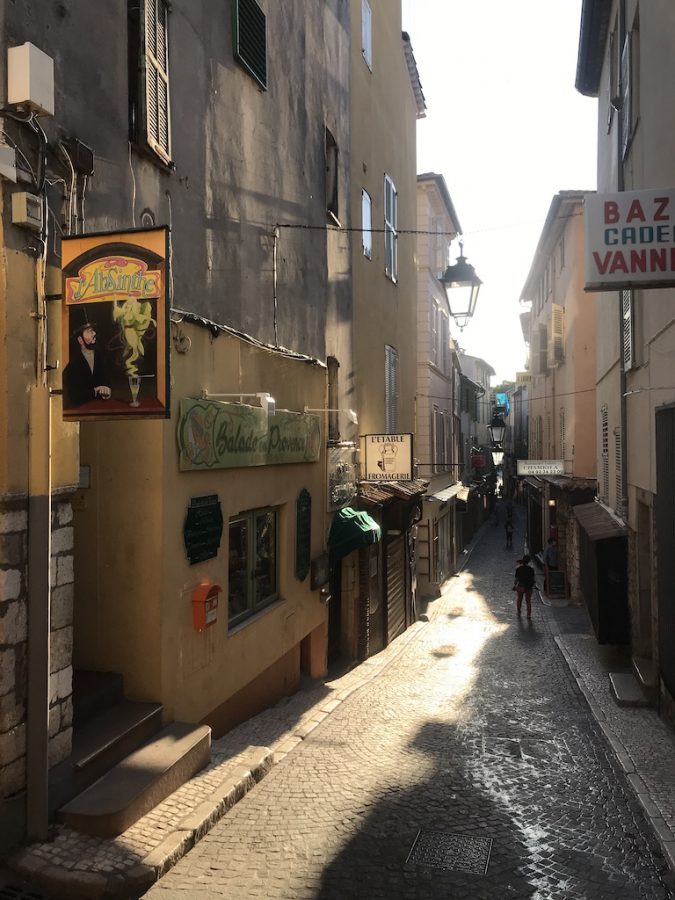 There are lots of other bars that are very popular with South Africans – from Hopps Store to Happy Face and Drinkers' Club (pictured below and currently closed).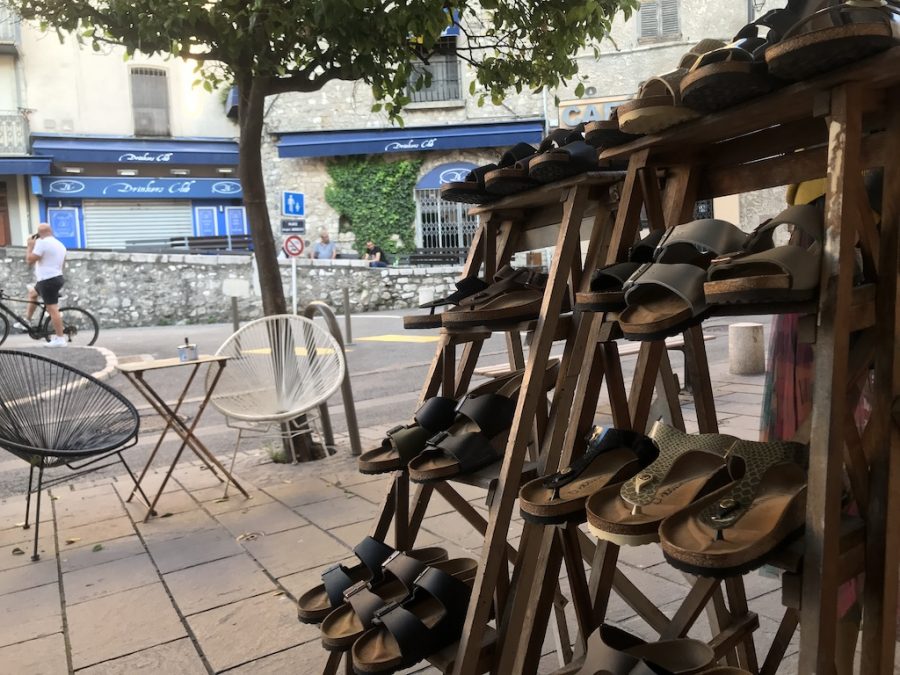 10. Churches in Antibes
There are some beautiful churches and small chapels in Antibes worth visiting, including the Notre-Dame de Bon Port at La Garoupe, at the top of a hill, next to the lighthouse.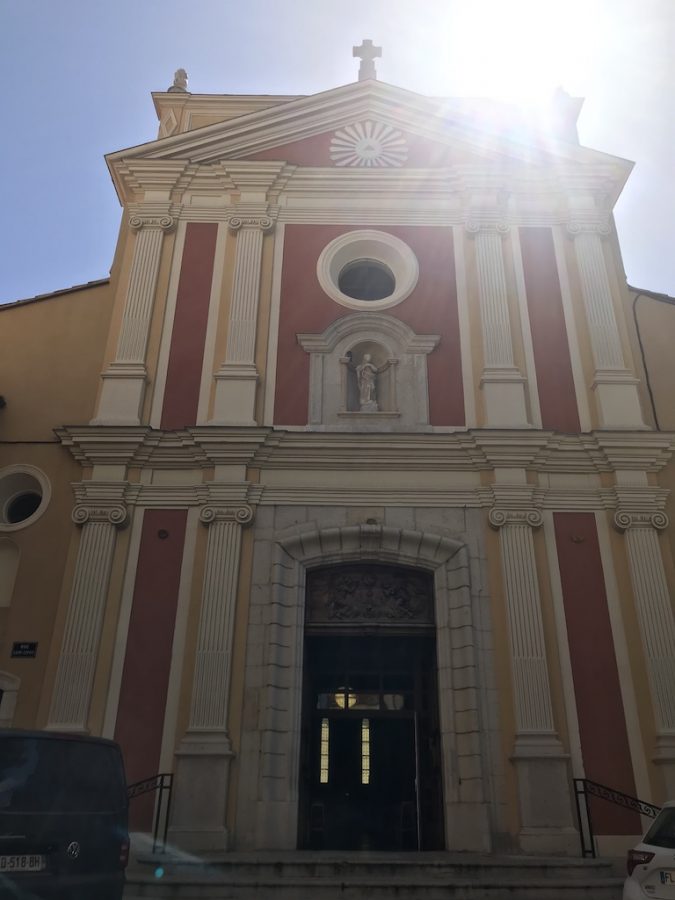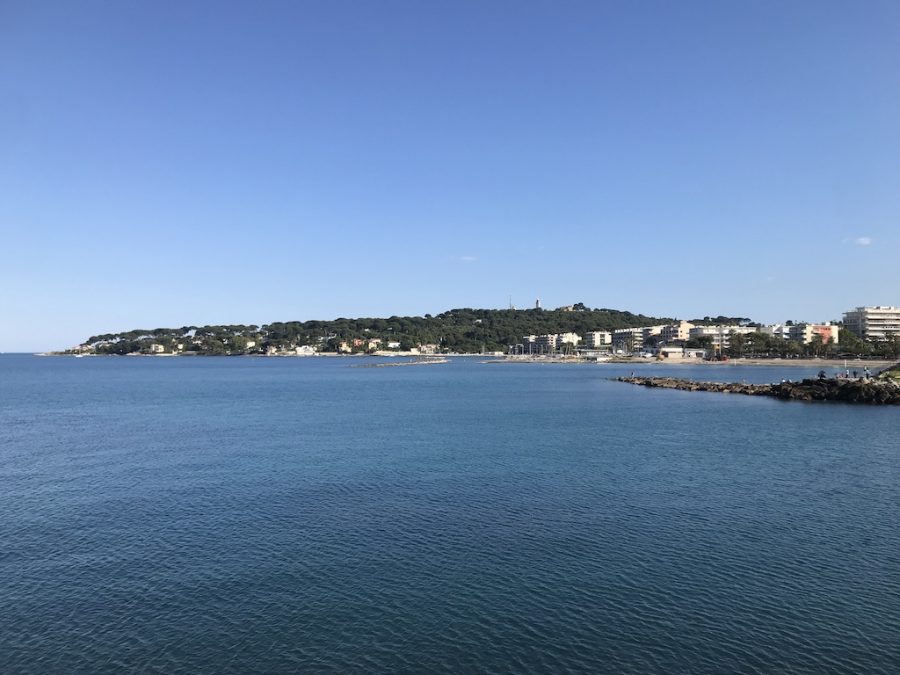 11. The Best Ice-Cream Shop in Antibes Old Town
There are almost as many ice-cream outlets in Antibes as boulangeries. This is the most popular. They sculpt their ice-cream scoops to look like the petals of a rose.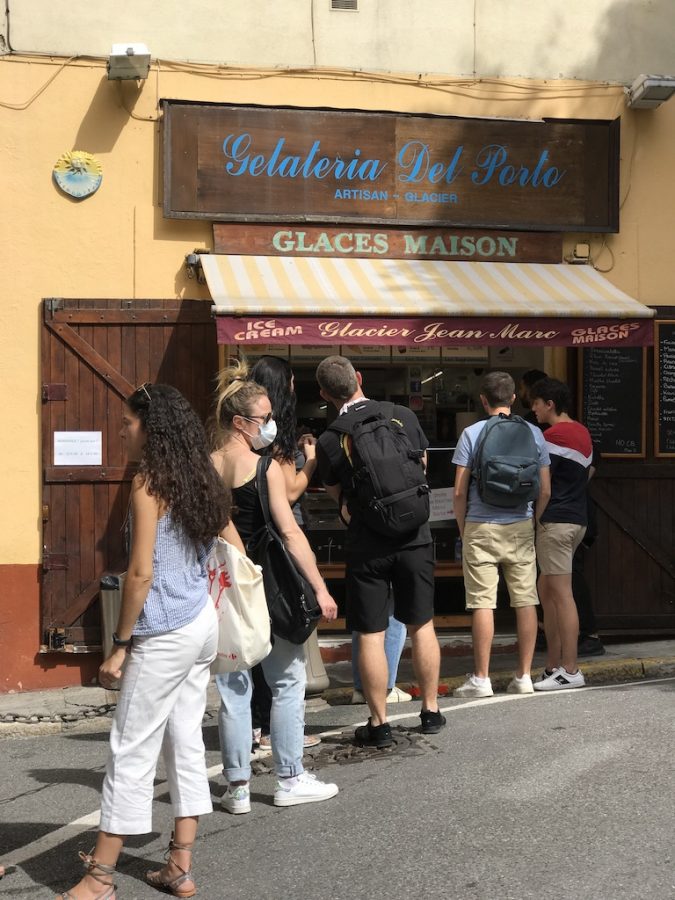 12. There's beauty everywhere and jasmine in the air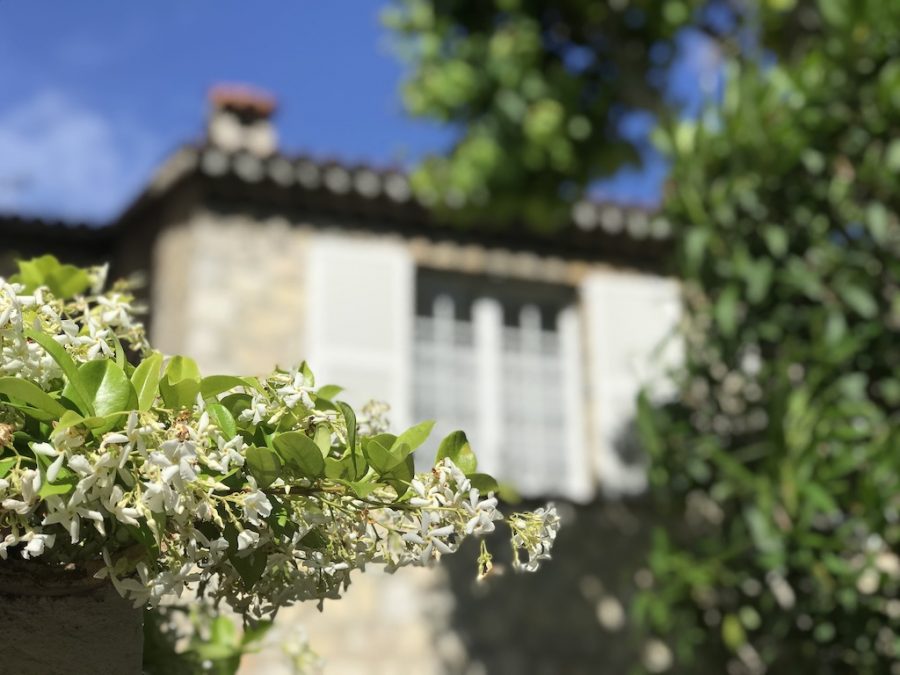 All photos taken in the past week. There is a rainbow at the end of Lockdown!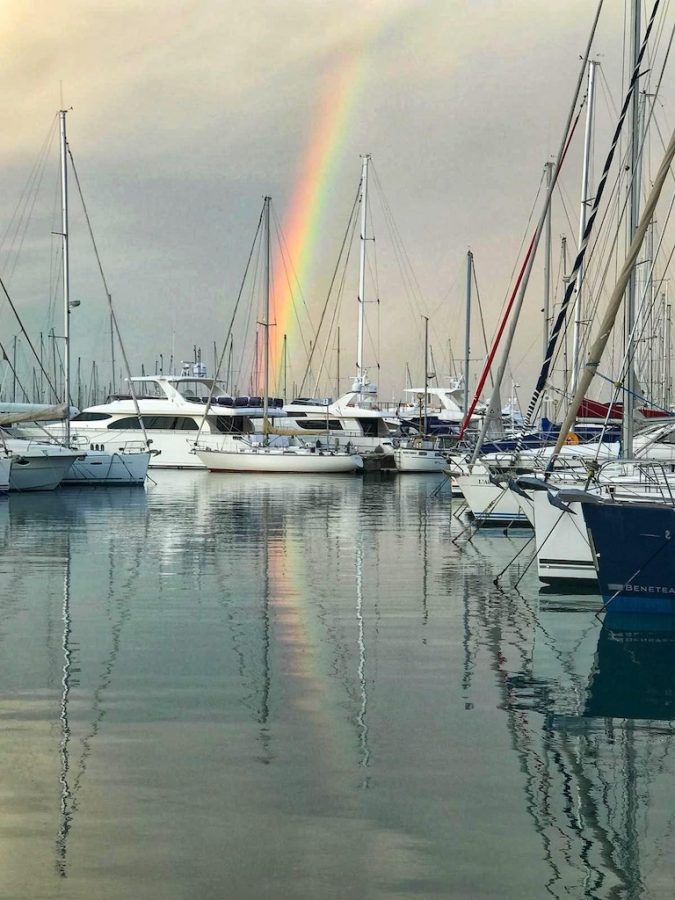 WATCH French people socialising during Deconfinement:
Nouveau challenge @IxinaFrance organiser un apéro déconfiné ! Défi accepté ! #deconfinement #GestesBarrières #sortezdansvotrecuisine pic.twitter.com/qt8dLG2p4N

— Michael Augusto (@mi_k_augusto) May 21, 2020
If you'd like to visit, here's a fabulous apartment in the heart of Antibes Old Town.